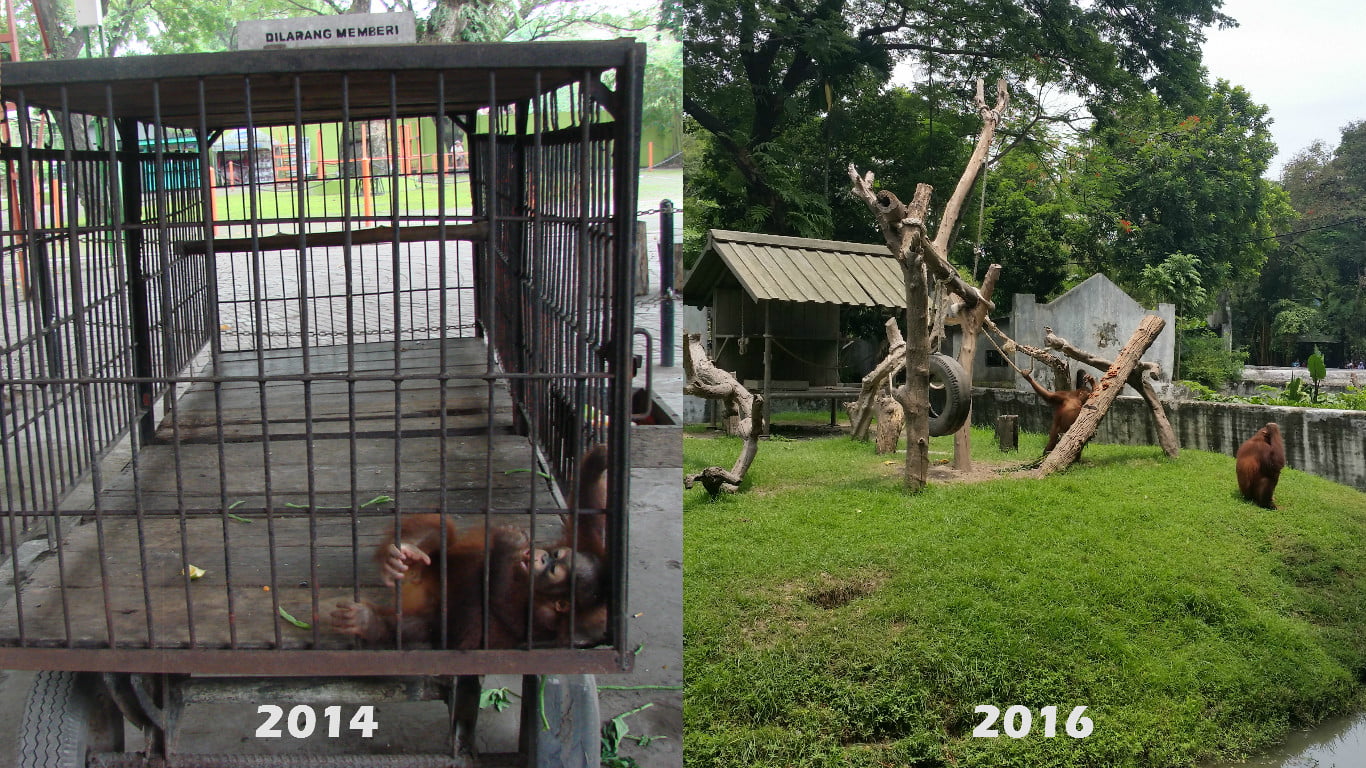 Orangs and bears at Surabaya Zoo
Our team were back in Indonesia this month, and checked in on the positive improvements being made for some special zoo residents.
Surabaya Zoo, one of the zoos Wild Welfare has been working with for several years, has made significant advances in the care it offers its young orangutans. During one of our first visits to the zoo we found individual apes in unsuitable enclosures. From 2014 we began offering enclosure and enrichment guidance, so an improved orangutan facility could be developed. The zoo has been making ongoing progress and on our last visit, we saw the orangutans fully settled in an island enclosure, complete with a raised sleeping house, hanging enrichments in the form of tyres and ropes – perfect for enquiring youngsters, logs to climb on and space to explore.
This Indonesian facility is also home to seven Javan Sun Bears. These gentle bears arrived at the zoo either as a result of forestry confiscations or from previous confinement as pets and the zoo is currently developing suitable long-term enclosures for them. Dave Morgan, Wild Welfare's field director, had the chance to meet with the two vets who are tasked with keeping a close eye on these bears, Drh Rahmat and Drh Glen (Drh or Dokter Hewan means vet in the local Bahasa language).
Earlier this year the bears were anaesthetised and given comprehensive physical checks and Wild Welfare recommended a diet review in one of our previous reports, something the Drhs have been keen to put into action. More whole foods are being given – such as unpeeled fruit, which requires the bears to peel it themselves, and one of our partners, APE Malaysia, has provided firehose hammocks, which are currently being erected in the bear's enclosures.
Wild Welfare returns to Indonesia in early 2017 and will check in on the bears and the orangutans again. We will also continue to work closely with the zoo in whatever way we can, and provide them with ongoing advice and support so they can care for these very special animals.